Amber Spry, Ph.D.
amberspry@brandeis.edu
Brandeis University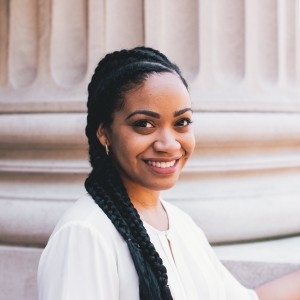 About Me:
I'm a professor in the departments of Politics and African + African American Studies at Brandeis University. My work focuses on political attitudes and behavior in United States politics. I'm a proud alum of Columbia University (PhD) and the University of Maryland, Baltimore County (BA). I write and conduct research about identity, race and ethnicity, political preferences, and survey design methods.
Research Interests
Public Opinion
Race, Ethnicity and Politics
Political Psychology
Class, Inequality, and Labor Politics
Specific Areas of Interest
Identity Politics
Political Behavior
Intersectionality
Publications:
Journal Articles:
(2017)
Identity and Political Attitudes: What insights can an alternative measurement strategy provide?
,
Comparative Politics Newsletter
Current United States politics are as ripe with examples of policy appeals by identity groups as they have ever been. But on what basis should observers form empirical inferences about group members and their identity-related appeals? I argue that a key to understanding politics lies in distinguishing identity from group membership. I develop measurement strategies to demonstrate that political attitudes respond to self-categorization and provide support using survey experiments, with particular attention paid to the politics of immigration and welfare. Taken together, my work demonstrates that by further interrogating how attitudes and behavior respond to self-categorization, we may develop a more refined picture of identity and the politics of intersectionality.
(2014)
Hate Crime Research: Design and Measurement Strategies for Improving Causal Inference
,
Journal of Contemporary Criminal Justice
(with Donald P. Green) The credibility revolution in the social sciences has placed new emphasis on research designs that provide strong evidence of cause and effect. The next generation of hate crime research must move in this design-based direction. This essay reviews recent examples of experiments and quasi-experiments in criminology, political science, and economics that provide useful design templates for hate crime researchers. At the same time, we caution that advances in design must also be accompanied by advances in measurement if researchers are to gauge the long-term effects of interventions designed to reduce the risk of hate crime.
Book Reviews: