Andrea Aldrich, Ph.D.
aldrich.andrea@gmail.com
Yale University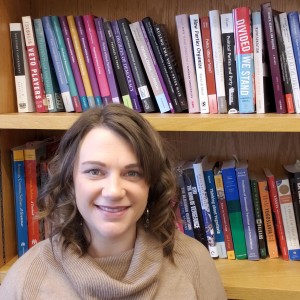 About Me:
I am a faculty member in Political Science at Yale University, the co-chair of the Political Parties Research Network for the Council for European Studies, and a member of the Political Parties Database Project (PPDB). My research interests are focused on political representation, gender, and comparative political institutions. My work examines the relationship between internal political party dynamics and legislative representation. I am particularly interested in investigating the influence of internal party organization on gender equality in elections, and my research has recently been published or is forthcoming in JCMS: the Journal of Common Market Studies, Party Politics, and Politics & Gender.
Research Interests
Gender and Politics
Political Parties and Interest Groups
Comparative Political Institutions
European Politics
Representation and Electoral Systems
Post-Communist Politics
Specific Areas of Interest
Gender And Politics
Political Party Organization
The Balkans
European Parliament
Countries of Interest
Bosnia-Herzegovina
Croatia
Serbia
My Research:
My research is focused on political representation and comparative political institutions. My work pays particular attention to the effect of political party institutions on the quality of democratic representation. I have developed a research agenda that explicitly links the organizational structure of parties and their electoral goals to individual access to elected institutions and legislative outcomes. My research is comprised of three broad project areas that focus on equality of representation with respect to gender, the link between representation and internal party decision making, and the causes and consequences of party organization for legislative elections and legislative behavior. I have a particular interest in comparing parties across Western and Eastern Europe and spent several months conducting fieldwork as a Fulbright Scholar in Zagreb, Croatia. This was a unique opportunity to witness the preparation of a new member state and its political parties for entry into the European Union and participation in its first European election. Thanks to generous awards from the European Union Studies Association's Haas Fund Fellowship and the University of Pittsburgh's Jean Monnet European Union Center for Excellence (EUCE), I was able to complement this experience with several months of study in Brussels, Belgium where I interviewed many members of the European Parliament and their staff. My teaching interests revolve around the study of democratic institutions, political parties, gender, political methodology, Eastern and Southeastern Europe, and the institutional structure, functioning, and evolution of the European Union. At Yale, I teach courses on gender and politics, comparative political parties and electoral systems, and communism and conflict in Europe.
Publications:
Journal Articles:
(2018)
Party Organization and Gender in European Elections
,
Party Politics
Political parties often monopolize the flow of politicians into elected office making it important to understand when, and under what conditions, parties are more or less likely to promote gender equality in representation. This article argues that party choices to nominate women in elections are conditional on the centralization of candidate selection within the party. Gender quotas and characteristics of the electoral environment have differential effects on candidate lists across party types. Leveraging data at the party level, I test when it is electorally feasible and organizationally possible for parties to nominate women for office. I find that candidate selection procedures condition the effects of party strategy and characteristics of the electoral environment on the percentage of women on electoral lists. The results provide insight into how strategic party choices, attenuated by electoral considerations and organization, impact the diversity of representation in political institutions.
(2018)
National Political Parties and Career Paths to the European Parliament
,
Journal of Common Market Studies
This paper explores how career paths leading to the European Parliament (EP) are influenced by the strategic goals of national political parties. Considering both individual career factors and the national electoral fate of political parties, it determines what conditions increase the likelihood that experienced or inexperienced politicians serve in the EP. Experienced politicians are more likely to reach the EP when they serve vote‐seeking and policy‐seeking parties while inexperienced politicians are more likely to enter the EP when their parties are opportunity seeking. Overall, I find the role of individual ambition is conditioned by party strategy to determine the institutional composition of the EP, contributing to a growing literature on the strategic use of European elections by national political parties. It suggests that the electoral goals of parties should be examined in order to understand the nature of democratic representation in the European Union.