Audie Klotz, Ph.D.
aklotz@maxwell.syr.edu
Syracuse University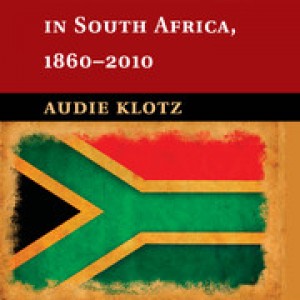 Research Interests
International Law & Organization
Immigration & Citizenship
Human Rights
Research Methods & Research Design
African Politics
Comparative Political Institutions
Specific Areas of Interest
International Relations Theory
Qualitative Research Design
Race And Politics
Historical International Relations
Countries of Interest
South Africa
Canada
United Kingdom
Zimbabwe
Australia
Publications:
Books Written:
(2013)
Migration and National Identity in South Africa, 1860-2010
,
Cambridge University Press
An extraordinary outbreak of xenophobic violence in May 2008 shocked South Africa, but hostility toward newcomers has a long history. Democratization has channeled such discontent into a non-racial nationalism that specifically targets foreign Africans as a threat to prosperity. Finding suitable governmental and societal responses requires a better understanding of the complex legacies of segregation that underpin current immigration policies and practices. Unfortunately, conventional wisdoms of path dependency promote excessive fatalism and ignore how much South Africa is a typical settler state. A century ago, its policy makers shared innovative ideas with Australia and Canada, and these peers, which now openly wrestle with their own racist past, merit renewed attention. As unpalatable as the comparison might be to contemporary advocates of multiculturalism, rethinking restrictions in South Africa can also offer lessons for reconciling competing claims of indigeneity through multiple levels of representation and rights.