Burcu Ucaray-Mangitli, Ph.D.
burcu-ucaray.mangitli@sowi.uni-goettingen.de
Georg-August-Universität Göttingen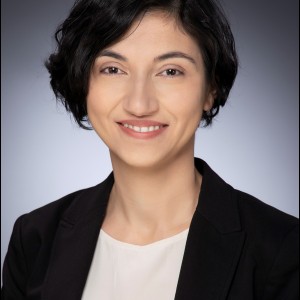 Address: Department of Political Science University of Göttingen Platz der Göttinger Sieben 3
City: Göttingen - 37073
Country: Germany
About Me:
I have studied international relations and political science at Bilkent University and the University of Illinois, Urbana-Champaign. In 2016, I completed my Ph.D. thesis titled "A Bottom-Up Approach to International Cooperation: Econocrats' Role in Compliance with IMF Agreements". My thesis, supervised by Prof. Robert Pahre, analzyed the influence of domestic economy bureaucrats and their relationship with IMF officials on the design and implementation of international borrowing programs. In 2018, I completed a post-doctoral fellowship, funded by the Swedish Institute, at Stockholm University. I joined to the Göttingen University as a post-doctoral researcher in 2018. My current research focuses on implementation of the gender equality norm in international organizations.
Research Interests
Bureaucracy
Gender and Politics
Political Economy
International Law & Organization
Specific Areas of Interest
Gender & IOs
International Cooperation
International Political Economy
International Bureaucracy
Gender And Development
Publications:
Journal Articles:
(2017)
Intimate politics: strategies and practices of female Mukhtars in Turkey
,
British Journal of Middle Eastern Studies
The dualistic separation between the public and private assumes natural and stable boundaries between these spheres. However, a perspective that relies on binaries may deprive certain groups, practices and processes associated with specific spheres from diverse experiences. For instance, women wanting to move from the private sphere and join the political public could not do that due to the domesticated nature of their roles and responsibilities. However, those who do manage to become agents of political activity do so by developing strategies and practices that are context specific. This article examines how the boundaries between the public and private are traversed in Turkish local politics through the mentioned context-specific experiences. It identifies the ways in which female mukhtars in Turkey engage in politics through practices of intimization as a political strategy, which accounts for the strategies and practices of degendering and regendering. The analysis of data from interviews with 20 randomly selected female mukhtars reveals that female mukhtars successfully navigate a versatile strategy of degendering and regendering. In this regard, they may highlight career-defined and gender-neutral attributes or valorize the masculine imperatives of the public domain. They may also affirm and assert their feminine qualities depending on the context.
(2009)
The myths of Turkish influence in the European Union
,
Journal of Common Market Studies
Among the many objections to Turkish membership of the European Union lie claims that Turkey will be a powerful actor in the future EU, with a population as large as or larger than Germany. Many also claim that this power will have negative effects on the EU. We examine such claims analytically, influenced strongly by spatial models of EU policy‐making. We find that Turkey's preferences lie sufficiently outside the EU mainstream that it will have little influence in day‐to‐day policy‐making under the assent, co‐decision, consultation and co‐operation procedures (or the common procedure in the Constitutional Treaty). Its influence may be more evident in areas such as the CFSP or JHA, where unanimity remains the normal procedure. Still, Turkey's veto power here is no different from that of other, much smaller countries. Furthermore, veto power can only block changes and cannot be used to pull the EU in undesirable new directions. Even this veto power can be avoided if the EU‐27 establish whatever policies they desire prior to Turkish membership, forcing Turkey to accept a fait accompli. Despite these limitations to its power, Turkey may have some influence in purely intergovernmental settings such as negotiations over new treaties that might occur some decades hence.