Christi Siver, Ph.D.
csiver@csbsju.edu
College of Saint Benedict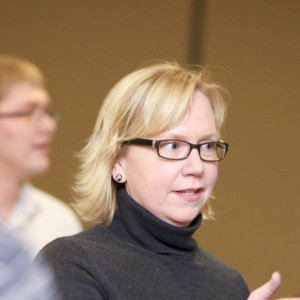 Phone: (320)363-2250
Country: United States (Minnesota)
About Me:
Christi Siver is an Associate Professor at the College of Saint Benedict/Saint John's University in Collegeville, MN. Her research focus is on issues at the intersection of international security and human rights. Her first book, Military Intervention, War Crimes, and Protecting Civilians, was published by Palgrave Pivot in 2018. She completed her Ph.D. in Political Science at the University of Washington in 2009 and earned an M.A. in International Relations and International Economics at Johns Hopkins School of Advanced International Studies in 2002. She was also name an Academic All-American by the Cross Examination Debate Association in 1997. She competed in policy debate at the national level in college and high school and coached intercollegiate debate at Lewis and Clark College, the University of Washington, and the College of Saint Benedict/Saint John's University. She is co-director of high school programming for the Women's Debate Institute, which advocates for a more gender inclusive environment in debate one student at a time.
Research Interests
Conflict Processes & War
Foreign Policy
Human Rights
International Law & Organization
Military Intervention
Political Violence
Specific Areas of Interest
International Humanitarian Law
Protection Of Civilians
Publications:
Journal Articles:
(2016)
Are We Teaching Them Anything? A Model for Measuring Methodology Skills in the Political Science Major
,
Journal of Political Science Education
While the literature emphasizes the importance of teaching political science students methods skills, there currently exists little guidance for how to assess student learning over the course of their time in the major. To address this gap, we develop a model set of assessment tools that may be adopted and adapted by political science departments to evaluate the effect of their own methods instruction. The model includes a syllabi analysis, evaluation of capstone (senior) papers, and a transcript analysis. We apply these assessment tools to our own department to examine whether students demonstrate a range of basic-to-advanced methodological skills. Our results support the conclusion that students at our institution are learning methodological skills, but that there is room for improvement. Additionally, the results support others' conclusions regarding the importance of an integrative approach to methods instruction. For those in the discipline seeking to understand the effect of methods instruction on student performance, this model can be easily replicated to assess student learning.
Books Written:
(2018)
Military Intervention, War Crimes, and Protecting Civilians
,
Palgrave Macmillan
War crimes have devastating effects on victims and perpetrators and endanger broader political and military goals. The protection of civilians, one of the most fundamental norms in the laws of war, appears to have weakened despite almost universal international agreement. Using insights from organizational theory, this book seeks to understand the process between military socialization and unit participation in war crimes. How do militaries train their soldiers in the laws of war? How do they enforce compliance with these laws? Drawing on evidence from the Korean War, the Malayan Emergency, and the Canadian peacekeeping mission in Somalia, the author discovers that military efforts to train soldiers about the laws of war are poor and leadership often sent mixed signals about the importance of compliance. However, units that developed subcultures that embraced these laws and had strong leadership were more likely to comply than those with weak discipline or countercultural norms.