Clare Brock, Ph.D.
cbrock1@twu.edu
Texas Woman's University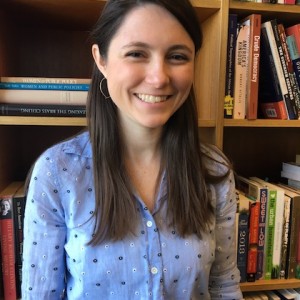 Research Interests
Public Policy
Text as Data
Legislative Politics
Specific Areas of Interest
Food And Agriculture
Food Security
Sustainable Food/Agriculture
Lobbying
Interest Groups
Countries of Interest
United States
My Research:
Clare's research focuses on agricultural policy and lobbying behavior. More specifically, she studies how polarization impacts lobbying behavior and legislative outcomes in the agricultural and food sectors. Clare relies on statistical analysis, content analysis, and with elite interviews to conduct her research.
Publications:
Journal Articles:
(2017)
Pennies for Pounds: Soda Consumption and Taxation as a Test of Economic Voting Behavior
,
World Medical & Health Policy
Utilizing 2014 Texas Lyceum Poll data, we determine whether voters would support instating a soda tax in Texas. We use self‐reported statements of political ideology, perceptions of public health, and soda consumption to examine what happens when voters face conflict between ideological preferences and consumption habits. We expect that liberals who do not drink large quantities of soda will support a soda tax in keeping with the liberal philosophy of supporting government involvement in public health; however, for liberals who more frequently drink soda, we expect they will be less likely to support a soda tax because it conflicts with their financial self‐interest. We find evidence in support of these expectations. We also find that conservatives who view public health as poor are more likely to think sociotropically and to support a soda tax. These results suggest that soda‐tax advocates should prime public health considerations to garner public support.
(2016)
Framing Child Nutrition Programs: The Impact of Party and District Characteristics on Elite Framing
,
Social Science Quarterly
The objective of this article is to determine whether district characteristics impact the framing choices made by members of Congress. Certain frameworks may be more effective for creating policy change, and given that framing shapes the way humans conceptualize a problem space, framing should be a deliberate tool used in order to constrain the debate around certain problems. However, the actual details of debate shifts and issue framing often become a "black box" in theories of policy change. The study uses content analysis of floor statements made over a 16‐year period regarding the National School Lunch Program, the results of which are analyzed using a multinomial logistic regression. The results indicate that policy framing is highly dependent on district characteristics, but that language use itself does not appear to have changed significantly in the time period studied. The evidence presented here indicates that legislators are, at least through floor statements, engaging in delegate representation of their district interests.
Book Chapters:
(2016)
Race, Ethnicity, and the Politics of Food
,
The Oxford Handbook of Racial and Ethnic Politics in the United States
Food policy intersects with racial and ethnic politics along several dimensions: the agricultural workforce, acculturation into American society, the availability of healthy food, and the provision of social programs. First, the demand for agricultural and other low-wage workers in the food industry has encouraged immigration but many of the undocumented suffer from lack of access to basic services and legal protections. Second, many of these recent immigrants are less likely to suffer from the diseases of over-abundance that affect many Americans. However, as immigrants become acculturated into American life, their health outcomes become increasingly similar to less educated and poorer blacks and whites. Third, diet-related diseases are part of a multifaceted problem: education and income are often barriers to procuring healthy foods. Fourth, white attitudes about minority groups is associated with less support for social programs that might improve minority health outcomes. This chapter links these distinct areas of research.