Nichole Bauer, Ph.D.
nbauer4@lsu.edu
Louisiana State University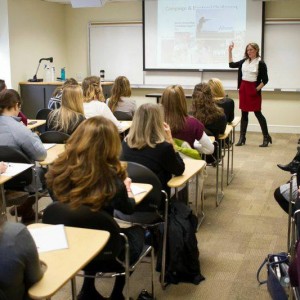 About Me:
I am an assistant professor of political communication in the Department of Political Science and the Manship School of Mass Communication at Louisiana State University. Previously, I was an assistant professor at the University of Alabama and a visiting assistant professor at Davidson College. I received my PhD in 2014 from Indiana University.
Research Interests
Gender and Politics
Political Psychology
Political Communication
Experimental Research
Research Methods & Research Design
Public Opinion
Political Participation
Specific Areas of Interest
Gender Stereotypes
Campaign Advertising
Experimental Research
My Research:
My research investigates how political communication shapes how voters evaluate political candidates. I am particularly interested in identifying how and when voters use gender stereotpes to evaluate female political candidates. My research looks at how candidate campaign strategies and the news media influences whether voters use gender stereotypes to make electoral choices about female candidates. I use multiple methods to trace how voters form choices about political candidates including experiments, content analyses, and observational research methods.
Publications:
Journal Articles:
(2018)
Running Local: Gender Stereotyping and Female Candidates in Local Elections
,
Urban Affairs Review
An implicit assumption underlying the gender stereotyping literature is that female candidates have an advantage in local elections. Two factors motivate this assumption. First, some local issues, such as the provision of social services, fit into the stereotypic strengths of female politicians. Second, as the level of office increases, so too does the perceived masculinity of the office. Research on local policymaking, however, indicates that the tasks associated with local political offices, such as economic competition with other cites, require masculine rather than feminine qualities. I integrate research on local policymaking with the gender stereotyping literature to clarify the role of gender stereotypes in local elections. Using two national survey experiments, I find that female candidates, especially Republican female candidates, benefit from emphasizing masculine stereotypes and not feminine stereotypes.
(2018)
The Effects of Partisan Trespassing Strategies Across Candidate Sex
,
Political Behavior
Candidates frequently engage in partisan trespassing strategies where a candidate will highlight issues and traits associated with stereotypes of the opposing political party. Successful trespassing messages should lead voters to associate candidates with qualities that fit into stereotypes about both Democrats and Republicans, increase electoral support for a candidate, and expand a candidate's base of support. Few studies, however, investigate whether there are differences in the effects of trespassing strategies across candidate sex. Through three survey experiments, I show that trespassing strategies have both positive and negative effects for female candidates. Voters associate female candidates who trespass with more issues and traits associated with the opposing political party, but voters also associate female candidates with fewer partisan qualities. This trade-off is one that both female and male candidates experience. Male candidates, unlike female candidates, can successfully attract more electoral support from out-partisan voters with trespassing strategies. These findings have broad implications for the viability of female candidates in national and state elections where candidates must secure support across a broad coalition of partisan and out-partisan voters.
(2017)
Visual Information and Candidate Evaluations: The Influence of Feminine and Masculine Images on Support for Female Candidates.
,
Political Research Quarterly
Existing research debates the extent to which feminine and masculine stereotypes affect voters' impressions of female candidates. Current approaches identify how descriptions of female candidates as having feminine or masculine qualities lead voters to rely on stereotypes. We argue that extant scholarship overlooks a critical source of stereotypic information about female candidates—the role of visual information. This manuscript explores the conditions under which voters use feminine and masculine visuals to evaluate female candidates. Drawing on theories of information processing and stereotype reliance, we develop a framework that explains when visual information will affect how voters evaluate female and male candidates. We argue that visual information that is incongruent with stereotypes about a candidate's sex will affect candidate evaluations while visuals congruent with stereotypes about candidate sex will not. We test these dynamics with an original survey experiment. We find that gender incongruent masculine visuals negatively affect evaluations of a female candidate's issue competencies and electoral viability.