Sophie Harman, Ph.D.
s.harman@qmul.ac.uk
Queen Mary University of London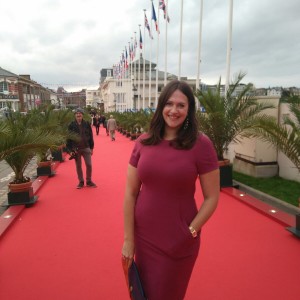 Phone: 00447779111715
Address: School of Politics and International Relations, Queen Mary University of London, Mile End Road
City: London, England - E1 4NS
Country: United Kingdom
About Me:
Professor of International Politics specialising in global health politics, visual method and film, and global governance.I know lots about the politics of HIV/AIDS and Ebola, global health funders such as the World Bank and the Bill and Melinda Gates Foundation, how to co-produce visual methods, how to make a film and how to manage the politics of film production and distribution, and gender inequality in global health.I also know lots about editing journals, being a woman in academia, mentoring, judging book prizes, teaching International Relations.BAFTA nominated (2019) for work as Producer on feature film Pili, recipient of PSA Joni Lovenduski Prize for outstanding professional achievement by a mid-career scholar (2018), co-Editor of Review of International Studies, and founding member of the BISA and ISA Global Health working group sections.
Research Interests
African Politics
Health Politics and Policy
Foreign Aid
Gender and Politics
Specific Areas of Interest
Film And Politics
Visual Politics
HIV/AIDS Africa
Ebola
Gender
My Research:
I conduct research into visual methods, African agency in International Relations, and global health governance. This has specifically focused on:How institutions of global health governance advance political agendas through specific health strategiesHow global health is used to reconfigure aspects of the African stateHow African Agency is expressed in international relationsThe illegitimacy of the Bill and Melinda Gates FoundationThe flawed nature of performance and results based financingCivil Society participation in HIV/AIDS programmesMulti-level and multi-sectoral governanceConspicuous Invisibility of Women and Gender in Global HealthCivil Military relations in the 2014/15 Ebola ResponseHow to co-produce academic researchHow to produce a feature film and get it distributedI have experience conducting extensive fieldwork in the Kenya, Sierra Leone, Switzerland, Tanzania, Uganda, US, UK, and Zambia. I used mixed methods, and have conducted over 300 semi-structured interviews with policy-makers, practitioners, activists, and community workers working in all aspects of global health from the HIV/AIDS response in Washington, to community health workers in Kenya, to military actors in Sierra Leone. My research is multi-level: if I investigate a problem - e.g. why are women disproportionately affected by HIV/AIDS than men? - I want to talk to diverse women living with HIV/AIDS and the people who are supposed to help them both nationally and globally.In 2016 I developed an innovate method of research: a co-produced narrative feature film, Pili. The film was co-produced between me and film-makers and women living in rural Tanzania. The film has won awards and was nominated for a BAFTA in 2019.